A Letter To My Long-Distance Best Friend
Hi all! My name is Hailey, the owner and photographer of Archer Inspired.
Recently my family and I moved to the South Bay Area of California, which was probably one of the single greatest things we did. But one of the scariest things about moving away from home was having to start my photography business all over again. I knew it would be challenging, but I also knew that I had a great support system, and that made all the difference. A part of my support system were two friends of mine that I held near and dear to my heart: Alison and Taylor. I met these two through mutual friends at Disneyland and one thing led to another, and they became some of my greatest friends. But these two.... oh man, these two. First off, they're long-distance best friends. Yep, you heard that right. Alison lives in Santa Clara, California, while Taylor lives in Gilbert, Arizona. But does the distance make a difference!? HELL NO! These two are inseparable and watching their friendship flourish over the years has been such a great pleasure of mine. So when Taylor came out to visit this past month, I knew that I needed to capture the infamous duo. Since they both have been there for me and supported my work, it was the least I could do to capture the both of them together for them to have photos to cherish. But what they didn't know is what I had planned for these photos. I had them each write a "letter to my long-distance best friend." They haven't read each others letters, nor have they seen their photos yet. I wanted to wait for the moment that they see it all for the first time to be on Wholehearted Woman. Why? Because when I think of wholehearted women, I think of these two. So Alison and Taylor, thank you for being such a beautiful example of what best friends look like, and how wholehearted women live their lives. Here's to the two of you!
** All photos taken by Hailey. Check out her website at Archer Inspired and follow her on Instagram!
A Letter From Alison To Taylor
Taylor!
Thank you for being the best best friend that a girl could ask for. Seriously. Although we've only known each other for like 3 and a half years, and really only been best friends for almost 3, I feel like I've known you for my whole life. You're always there then I need to talk (especially when I'm stressed about school assignments and waiting until the last minute to do them) and you inspire me to be me every day! We have had the best adventures together and I am so glad that I have you in my life! Remember when you drove for like 6+ hours all the way up to San Jose to stay at my house even though we basically just met?! Me too. That was literally the best. We did so much that trip and it was only just the beginning! Your sense of adventure is unlike any other and that's what makes you so great. You have pulled me out of my comfort zone more times than I can count and I am so appreciative of that. I wouldn't be who I am today if it weren't for you. It makes me sad sometimes that we live so far apart, but it makes it so much better when we actually do get together! One of my favorite memories was when I flew to AZ, then we got in the car and drove back to CA to move you in for your job at Disneyland! I had so much fun on that road trip. Carpool karaoke trying to earn the last few hundred dollars to meet our goal for our charity run the following weekend. SO. MUCH. FUN! Those memories are going to start popping up on timehop and I seriously cannot wait to relive that! Also I love our tradition of visiting each other (or going to ORLANDO) for New Years even when I try to surprise you and then you sabotage that by signing up for a midnight race while I'm on the airplane on my way to AZ. yeah...thanks for that haha :). AH! And that one time we accidentally went to see the same movie at the exact same time with our little brothers even though you were in AZ and I was in CA and you were a time zone ahead of me (thanks daylight savings). Talk about coincidence! And we were just texting about the movie the whole time. That was so great! 735 miles can't keep us apart. EVER. But for real, thanks for being the best friend and sister I've always wanted but never had. Never ever stop being you and know that you are loved! I love you!
<3 AL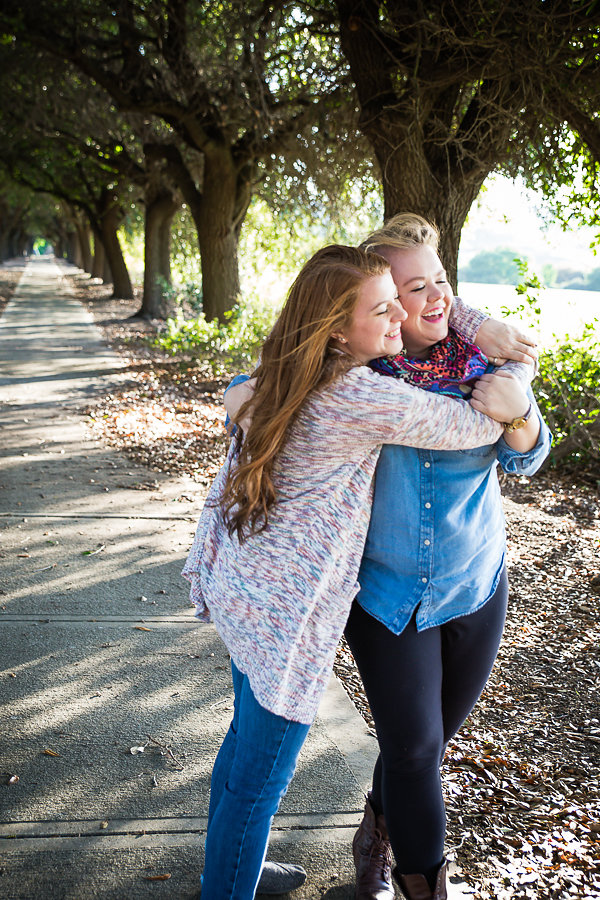 A Letter From Taylor To Alison
Al,
I don't even know where to begin. Well first off, long distance SUCKS, but I know that 744 miles ain't got nothing on us. Secondly you are my favorite person, SERIOUSLY. I am pretty sure the Internet world is already sick of me EXCLAIMING just how great you are. (SERIOUSLY SHE'S GREAT!) 3 years and some-odd months ago, I met the fiery redhead that would soon become my best friend. Through many Face-time calls, trips across state lines, and cheesy cards our friendship has blossomed into the most beautifully, strange friendlationship in existence. I am so grateful for the person you have become to me. When life has me down, or I go on a stupid date and I NEED to vent, I know you're always just a simple phone call away. When my phone rings and I hear the Phineas and Ferb theme song, I can't help but grin from ear to ear because I know who is awaiting on the other end. Each time we reunite a piece of my heart explodes. Although I don't get to see you IRL as much as I'd like, when we are together it's like we were never apart. Some how even the pain-staking task of cleaning out your child-hood bedroom was made into memory I'll cherish forever (but maybe not all of the Al-titude that came with it). We are fun. Ask all of my snapchat followers who have the pleasure of viewing our insane reunions in 10 sec increments.
Making you laugh will forever be my favorite. (Even if it comes with a few eye-rolls because my jokes feel more like some kind of PUNishment... get it. PUN. Never mind) Some of my favorite memories are paired with THAT FACE you make when I say something utterly stupid but still managed to induce a laugh.
We have been through trials, we've cried over boys, we've screamed in frustration over that stupid school assignment that is due in less than 24hrs and somehow we've managed to wait until the night before it's due to even read the guidelines, but we stood together and got it done. We've celebrated every holiday that Hallmark makes a card for, we've cried watching each-other walk across the commencement stage, we've ran more miles than I can count AND crossed each finish-line hand in hand.
Each and every day I YAM immensely grateful that you chose me to be your best friend.
(I couldn't get through an entire letter to you without throwing in one sweet potato pun!) Thank you for being 100% YOU, and even more thank you for embracing me and letting me be 100% me (Dad jokes included).
There isn't anyone else I'd rather do life with.
I love ya, Al. Here's to many more years of driving each other crazy and loving every second.
<3 Taylor
So here's to you Taylor and Alison.
Here's to your friendship, your loyalty, and your giving hearts.
Here's to the miles separating you two but never keeping you a part.